Man in Wheelchair Sets World Record for Longest Wheelchair Jump (VIDEO)
Meet the Man in Wheelchair Who Set A World Record
MAN IN WHEELCHAIR – Meet Aaron Fotheringham, the man who set a record in Guinness World for the longest wheelchair jump.
When it comes to disability, there are people who managed to see the sun amid the clouds. They never took it as a limitation on what they can do or what they can achieve.
In fact, for Aaron Fotheringham, to be on his wheelchair is a freedom for him. This man in wheelchair even set a world record in Guinness for the longest wheelchair ramp jump.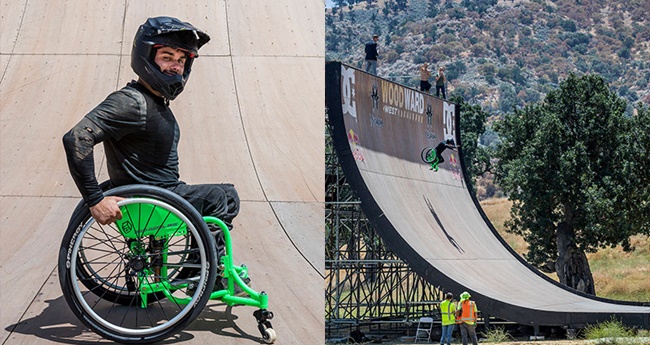 Aaron Fotheringham was born in Las Vegas, Nevada in the United States on November 8, 1991. He was born with spina bifida, a condition that affects the development of the spine. In the case of Aaron, he lost his mobility and grew up moving through a walker then crutches and then wheelchair.
The transfer to a wheelchair became a breakthrough for Aaron. Without hesitation and even after a fall of four feet, he continued his pursuit for a wheelchair jump. It was somehow inspired by skateboarding and BMX stun-riding.
Aaron's brother, Brian, is into BMX riding. The man in wheelchair is an adoptee and one of the six children of his parents. His older brother, Brian, and his dad, Steve, were the ones who assisted him when he was starting in his pursuit.
According to Guinness, in 2008, Arron got his first world record for being the first to do a wheelchair backflip. It took place at Doc Romeo skatepark in Las Vegas.
However, that was not the biggest record that the man in wheelchair set. In July 2018, he set three (3) records at the Woodward West summer camp in Tehachapi, California – "the longest wheelchair ramp jump (21.35 m; 70 ft), the tallest quarter-pipe drop-in on a wheelchair and the highest wheelchair hand plant (both at 8.4 m; 27 ft 6.7 in)". Here's a Guinness video of the amazing man from Las Vegas:
READ ALSO: Smartest Cat in the World Performs 26 Tricks in Just 1 Minute (VIDEO)
Share on Facebook